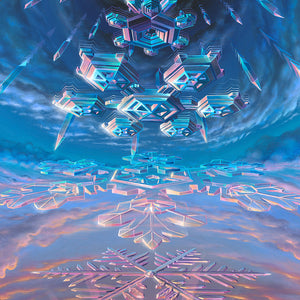 "Stellar Descendants"
small paper print: 12"x12" signed limited edition of 100
medium paper print: 24"x24" signed limited edition of 100
large canvas print: 36"x36" stretched & signed
canvas prints are made to order please allow 2-3 weeks for production, thank you
international canvas prints comes rolled in a tube and are not stretched 
Original 42"x42" acrylic on canvas available 2022
For serious inquiries contact sydwox@gmail.com
This painting is part 3 of 3 in my 'Hydrologic Cycle' mini series that explores the three transformative states of H20.  Water-Vapor-Ice
The hexagonal water molecule clings to a dust particle as it descends from the frozen void. Collecting moisture at its six axis points, the snowflake fractals outward in perfect six fold symmetry. Crystallizing into geometric order from seemingly formless chaos, the water's purification transformation is life!
Shout out to Kenneth Libbrecht for inspiring this piece with his extensive snowflake research.