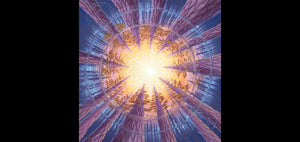 "Liquid Sun Drops"
small paper print: 12"x12" Limited Edition of 50 is now sold out
medium paper print: 24"x24" signed limited edition of 100
large canvas print: 36"x36" stretched & signed 
canvas prints are made to order, please allow 2-3 weeks for production/shipping
international canvas prints ship in a tube and are not stretched
Original 42"x42" acrylic on wood panel sold 2016
This vision came to me while soaking at Sykes hot springs in Big Sur California. Under the vast trees and under the influence of Lysergic Acid Diethylamide, this painting is a literal interpretation of my experience in one breathtaking moment frozen in time.  A balanced color palette of hot and cold is achieved by juxtaposing the element of fire, "The Sun" reflected in a pool, the element of water.  The water ripples create distortion and remind us that we are actually looking down at a reflection rather than up at the sun. The sunburst emanates a pattern of rotating hexagons that form alternating tetrahedrons and octahedrons. These geometries are two of the five platonic solids that make up the molecular structures of all matter. The vast perspective of these trees creates a feeling of humility.   The same humbleness found when we set aside ego and bask in our oneness. Now that's my kind of church!