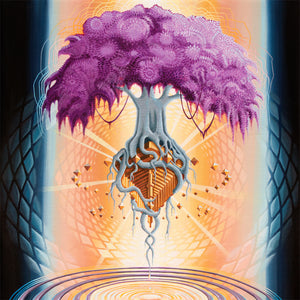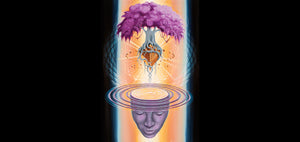 "Pineal Ponderings"
medium paper print: 17"x24" signed limited edition of 100
large canvas print: 24"x36" stretched & signed 
canvas prints are made to order, please allow 2-3 weeks for production/shipping
international canvas prints ship in a tube and are not stretched
Original 24"x36" acrylic on canvas available through Mystic Hearts Gallery 
Serious inquiries contact vajra@altaroftheheart.com
Pineal Ponderings explores the concept of how a single action or idea, even one as small as a seed or water droplet, can cause a rippling effect throughout the pond of reality and grow into something as marvelous as an ancient tree or an advanced species of conscious beings.  This painting was started live at Envision music festival in Costa Rica in 2016. Every year at Envision a mandala of flower petals is created around the ancient tree that resides on the grounds. I used this tree as reference for my live painting and created my own mandalas in its leaves. The energy pattern radiating from the background was created by rotating several golden spirals clockwise and counterclockwise. These cross hatching spirals create a Fibonacci grid similar to that seen on a pinecone or sunflower. To me this represents the divine laws of spirit or the math of god that nature follows consistently. The crystal geometry at the base of the tree references a Bismuth crystal.   Although this crystal is man made I'm intrigued by the way it naturally forms into upside-down stepped pyramids as it cools from molten form. To me, this is evidence that an underlying matrix grid exists that we cannot perceive yet pure elements like Bismuth follow instinctually on a molecular level. Pura Vida!