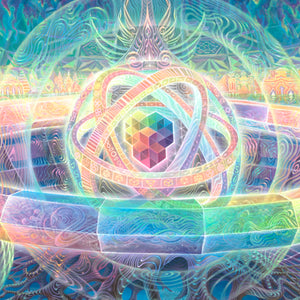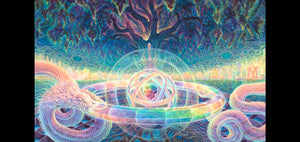 "Anahata"
large paper print: 22"x 34.5" signed limited edition of 111 on 310gsm watercolor paper

Original 4' x 6.5' foot acrylic on canvas sold 2020  
Painted by Vajra, Jonathan Solter, and Blake Foster

"The key to unlocking our gift is to be within the present" -B. Foster
Anahata: the heart chakra in Sanskrit, signifies the state of awareness that occurs when we are able to look at the different and apparently contradictory experiences of life with a state of openness (expansion). At the level of Anahata appears the possibility to integrate the two opposite forces and obtain unity without the two forces being confronted (unstruck). This energy is specific to cooperation and integration, which brings peace and a new perspective in a world which, up to this level was made only of a less conscious polarity.